Your personal backyard and PGA training center putting green needs is our priority one.
Turf Avenue has developed key manufacturing relationships in the artificial turf and putting green industry for over 18 years now. Our advanced products are found in PGA training facilities, government projects, retirement communities, assisted living facilities and in backyards everywhere.
Backyard practice green on concrete 1/2" Action Putt 3MM Closed Cell Foam (12NP3)


Clubhouse practice green EZ Kit 3/4" PRO Action Putting Green (34NPU)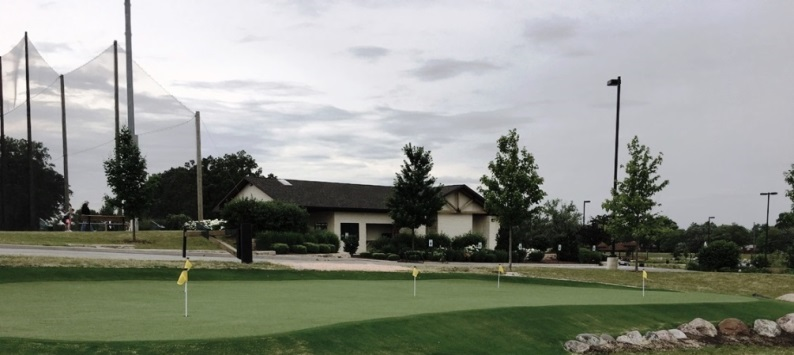 Installation friendly chip, bump and run putting greens 3/4" PRO Action Putting Green (34NPU)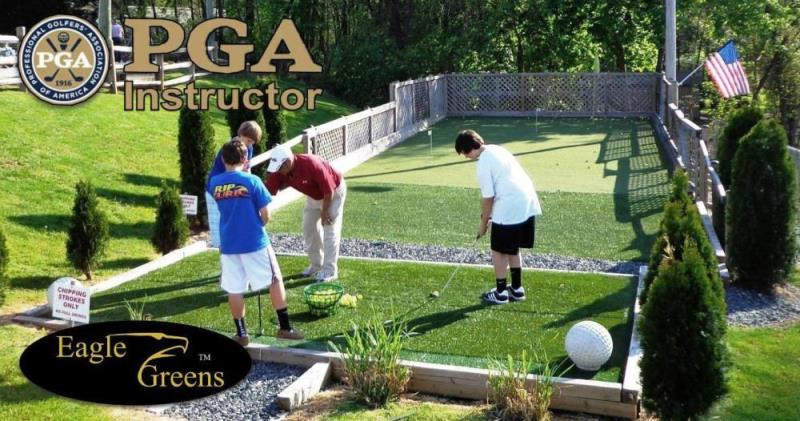 Free tech support on a custom practice putting green 1/2" PRO Action Putting Green (12NPU)

NOTE:

We offer everyone fee quality technical support via our trained staff that not only has been on several jobsites in their careers, but they are dedicated in the continuing education of quality putting green installation. Yes there are a few good flyover installation videos out there - but most leave a lot of unanswered questionss. So based off of our experience there's nothing like being able to pick up the phone and call your personal tech support team member on their cell phone when you need a question answered 6 days a week 8 AM to 8 PM.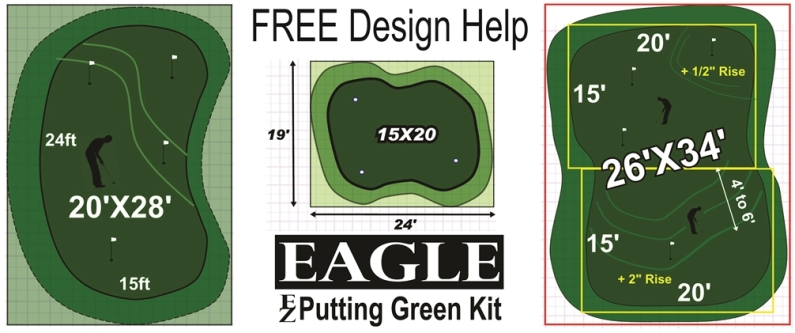 Choose Advanced Professional Putting Green Specifications
01.
100% ASTM tested yarns (perfected pre-bent non-directional grass blades)
02.
Premium grade primary and secondary poly woven backings (reverse weave)
03
.
Offset stitching to ensure no ball tracking (zigzag pattern stitching)
04.
Precision twice sheering to perfect PGA quality surface (natural bentgrass)
05.
RiNo tough advanced coating system (No pull out, stabilizes, adds rigidity)
For any questions please Email or Call (573)475-8311

3/4" PRO Action Putting Green (34NPU)


1/2" Action Putting Green (12NPU)


11/16" Eagle III Putting Green (EGP50)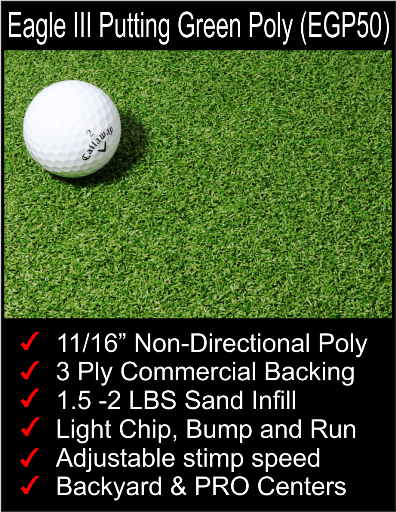 CLICK HERE: PUTTING GREEN KITS AND PRICING

LifeLike Turf putting green poducts are made in the United States on precision tufting machinery in Dalton Georgia. Let it be noted that all of our surfaces are "double sheared" to enhance the overall ball play. We take the game of golf serious and that is reflected in the quality of what we offer you.

For more information contact us at:
(573)475-9547 HelpDesk@TurfEmail.com